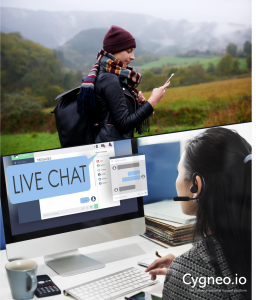 Supporting Your Customers, Keeping Control
Cygneo is a communication & support platform designed for an organization and associated service providers to support its customers or employees in a controlled manner.
Cygneo allows any users to communicate through chat, voice, videos, file sharing on any device or system and between any number of users. The powerful delocalized support functionality enable seamless cooperation between all service providers to assist customers anywhere and anytime across any geography.
Users are kept informed continuously through Feeds, Announcements or Alerts. Users are geo-localized and can communicate their status at anytime.
The platform can be white labelled and customized based on specific needs.
Cygneo Additional Modules
Seems like a right fit? Get in touch with our experienced Consultants